Few activities are more relaxing and enjoyable than spending time outdoors with friends and family. At this time of year when it's still warm outdoors that experience can extend into the evening. At Frontier we recommend Outdoor Lighting to enhance your Landscape, extend the time you can spend outdoors – as well as the safety aspects that come with having a well-lit garden or landscape.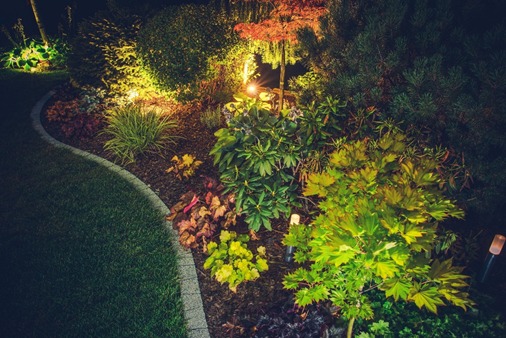 Got a great garden? Why not flaunt it by night? Using overhead, in-ground and other types of fixtures you'll create after-dark excitement – and deter trespassers at the same time.  There are many different moods and lighting options that your professionals at Frontier Landscaping can introduce as options for you to best suit your personal needs and taste.
Lighting the outside of your home is not difficult, but an evening stroll around the neighborhood quickly reveals it's easy to make mistakes…Too dark on one side, not enough light on the other…. Extremely bright then casting shadows over the front entry… not the right "type" of lighting, etc. The Frontier Landscaping Team will help you steer clear of such 'missteps' and find the types and styles of lighting to achieve the style and functionality that you are looking for!